Crew Perks
McDonald's is a fun, friendly, environment not only for our customers, but also for our crew that deliver the freshest food, the tastiest ingredients and the greatest service right across the country.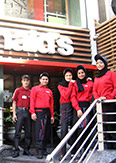 Work with friends, meet new mates
Our crew have told us that McDonald's is the best way to work with your friends, and make new ones! Broadening your social circle and bonding with people your own age while working in a high energy environment means work = fun.
Enjoy flexibility
At McDonald's, our super-supportive management teams offer work hours that can fit around your commitments, like school, sporting events or family commitments. To help young employees balance work and study, our flexible rostering system can accommodate exam periods and other important activities. Plus, if you're a school student, you won't be asked to work too late on a school night. Winning!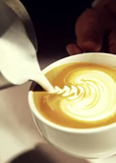 Experience Variety
Whether you're a budding burger builder or a Barista, you're always exposed to lots of different roles at McDonald's. With an unprecedented number of opportunities in each of our restaurants, we encourage each of our crew members to diversify their skills. Working at McDonald's is stimulating, challenging and fun!
Learn, Develop and Grow
McDonald's is the first job many of our employees experience, and first jobs can be daunting. However, you can come to us with confidence that we'll train you well and train you properly. Everyone's given the chance to shine - and to make mistakes along with way – and in no time, you'll be learning valuable skills such as critical thinking, time management, customer service, handling money, quality control and equipment maintenance.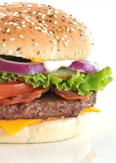 Create great food
Because we strive to source the finest, freshest ingredients from around the country, serving the tastiest meals to our customers is more than just a priority for us. At McDonald's, you learn the art of building and creating truly great food, and you get valuable experience implementing the highest standards of hygiene, preparation and of course, stellar service.
Make cash
McDonald's is committed to providing a work environment where everyone can expect to be treated equally, with dignity and respect. We have strict Equal Employment Opportunity and Workplace Safety policies in place, and even better, our fair pay policies ensure that while you're having fun at McDonald's, you're also making cash.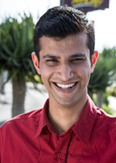 Jobs for everyone
While McDonald's is known for giving young people their first job, we have great jobs for everyone. If you are returning to the workplace, looking for a new start or changing careers, McDonald's can offer the opportunity to make this possible. Our flexibility, work environment and training and development gives everyone a great chance to succeed.